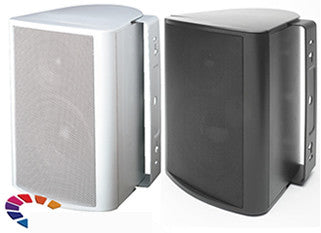 HD FIDLITY Indoor/Outdoor Speakers
Attractive and superb sounding two-way speakers for both indoor and outdoor use. Features durable and great sounding Kevlar driver and 1" textile tweeter.
Weather resistance cabinets and speaker drivers with rust-proof grills. Sealed, port-less design keeps moisture out of cabinet interior.  Both cabinet and grill are paintable to match outdoor exterior color. 
Includes U shape mounting bracket as well as mounting holes for stand speaker mounts.  Available sizes: 5", 6.5" and 8" in black or white colors. Sold in pairs
5" SPECIFICATIONS:
DRIVERS: 5" Kevlar woofer with butyl surround, 1" soft dome tweeter

FREQUENCY RESPONSE: 

40Hz - 21kHz ± 3 dB

SENSITIVITY: 87db (1 watt/1 meter)

POWER HANDLING: 50 watts NOM; 100 watts MAX

IMPEDANCE: 8 ohm

ENCLOSURE: 7

-1/4" W x 10" H x 7-1/2" D
WEIGHT: 16 lbs
6.5" SPECIFICATIONS:
DRIVERS: 6.5" Kevlar woofer with butyl surround, 1" soft dome tweeter

FREQUENCY RESPONSE: 38

Hz - 21kHz ± 3 dB

SENSITIVITY: 88db (1 watt/1 meter)

POWER HANDLING: 60 watts NOM; 120 watts MAX

IMPEDANCE: 8 ohm 

ENCLOSURE: 

8-3/4" W x 11-3/8" H x 8-5/8" D
WEIGHT: 22 lbs
8" SPECIFICATIONS:
DRIVERS: 8" Kevlar woofer with butyl surround, 1" soft dome tweeter

FREQUENCY RESPONSE: 35

Hz - 21kHz ± 3 dB

SENSITIVITY: 89db (1 watt/1 meter)

POWER HANDLING: 70 watts NOM; 140 watts MAX

IMPEDANCE: 8 ohm

ENCLOSURE: 10

-5/8" W x 13-3/4" H x 10-5/8" D
WEIGHT: 32 lbs