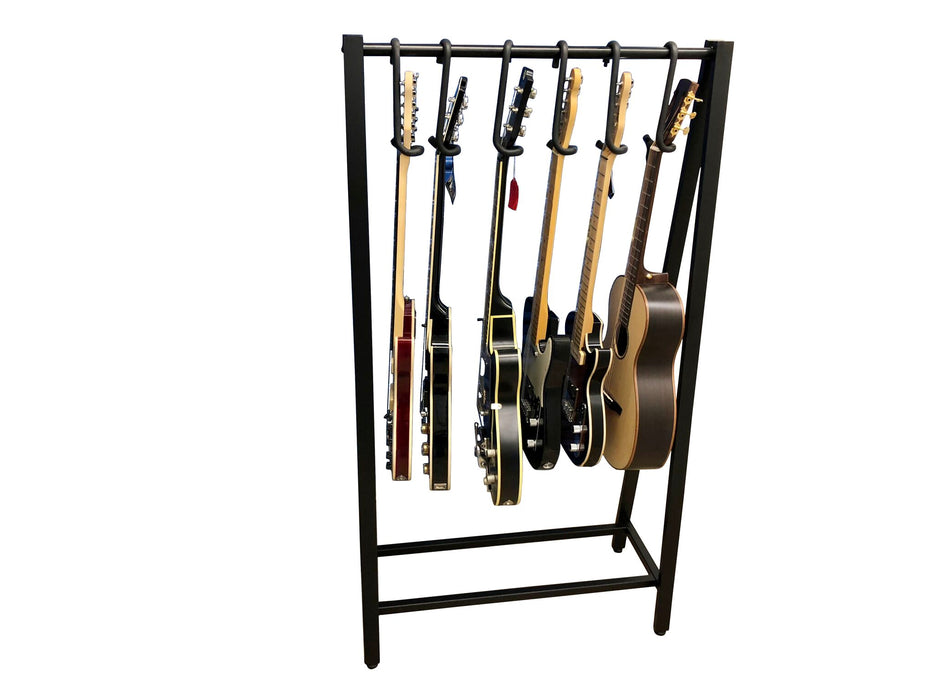 GUITAR BAR RACK + 2 Hangers 
Patent Pending guitar rack system used by pros in the studio and on the road.  It also provides music stores a very cool and secure way to display additional guitar inventory.

Made from heavy-duty hand welded aluminium for strength and light weight with adjustable rubber feet that insure maximum stability.   The 5-piece design provides for portability as well as  quick and easy assembly.  Use at home, studio, concert stage and retail stores.  You will not be disappointed with this rack, the best on the market. 
The Guitar Bar Rack will holds up to 8 guitars and also works great for professional solo guitar photos. Get your guitars off the floor and safe on our custom rack. Takes up less room and holds more guitars then any rack on the market!  Ships with 2 GUITAR BAR HANGERS.

"Excellent product! Sturdily made,easy to use,nicely padded to protect your instruments. I highly recommend the guitar bar hanger."
Alston's Boutique, April 2018

"Fantastic seller, outstanding idea and product!"
John's Gear Emporium, April 2018
"Excellent product, excellent communication and customer service!!!"
Jose's Gear Emporium, March 2018

DIMENSIONS:
4'5" Tall
3' long
15" deep
WEIGHT: