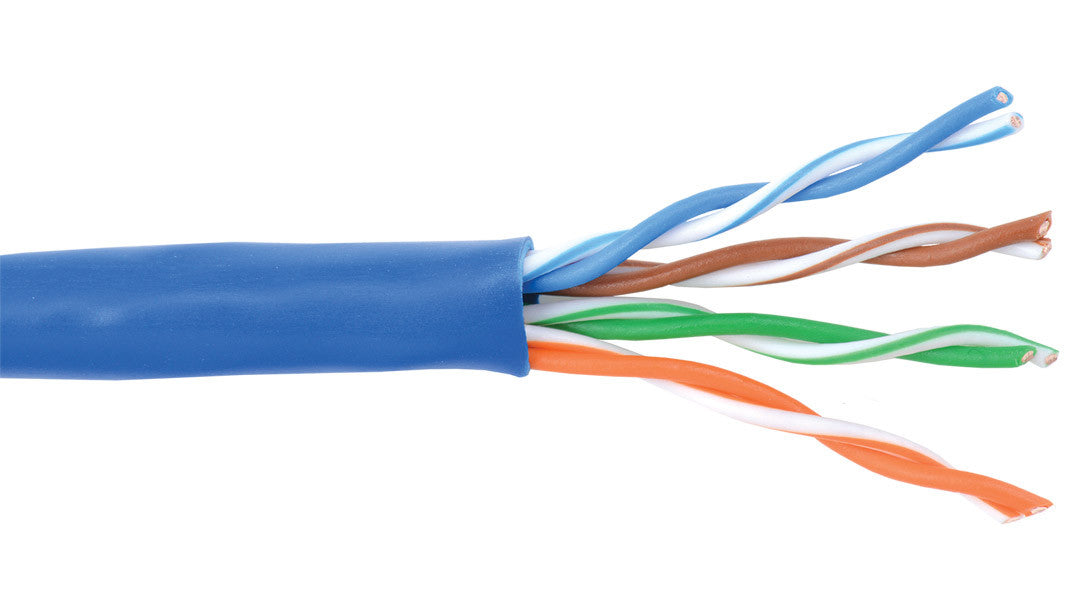 CATEGORY 5E 350MHZ 4 PAIR UTP ENHANCED DATA CABLE - CMP
This professional grade PLENUM RATED data cable offers superior signal transmission, long use life and ease of installation and termination.  Conductors are made from superior solid annealed bare copper with overall tough and durable PVC jacket.  This wire is ETL listed and meets or exceeds codes for installation in new construction and remodeling, as well as verified to meet or exceed TIA (Telecommunications Industry Association) specifications and other industry standards. 
BEWARE - ALL CAT5 CABLE IS NOT THE SAME. Cheap CAT5e wire is made with conductors from CCA (copper clad aluminum) or CCS (copper clad steel) which can limit bandwidth and performance, especially on long runs.  This is very critical when connecting today's high definition video, cameras as well as POE (power over ethernet) equipment.
FEATURES:
UL Listed Type CMP

Verfied to TIA - 568-C.2, and ISO/IEC 11801

ROHS Compliant

ATM 155 Mbps

Ethernet 10BASE-T, 100BASE-TX, 100BASE-VG, 100BASE-T4

100-Mbps 1000BASE-T Gigabit Ethernet (IEEE 803.3)

16 Mbps Token Ring (ieee 803.5)
SPECIFICATIONS:
Number of conductors Pairs:            4 UTP (unshielded twisted pair)
Size: 24 awg.
Stranding: Solid
Conductor Material: Solid Annealed Bare Copper
Rip Cord: Yes
Insulation Material: Polymer Alloy (FEP)
Insulation Overall Diameter: 0.035 inches + or - 0.00002 inches
Insulation Average Thickness: 0.0078 inches
Jacket Material: Flame Retardant PVC
Outer Jacket Average Wall Thickness: 0.017 inches + or - 0.001 inches
Outer Jacket O.D.: 0.200 inches + or - 0.008 inches
Nominal Weight: 21 lbs
Voltage Rating: 300V
Colors: Blue, Green, Grey, Orange, White, Yellow, Black