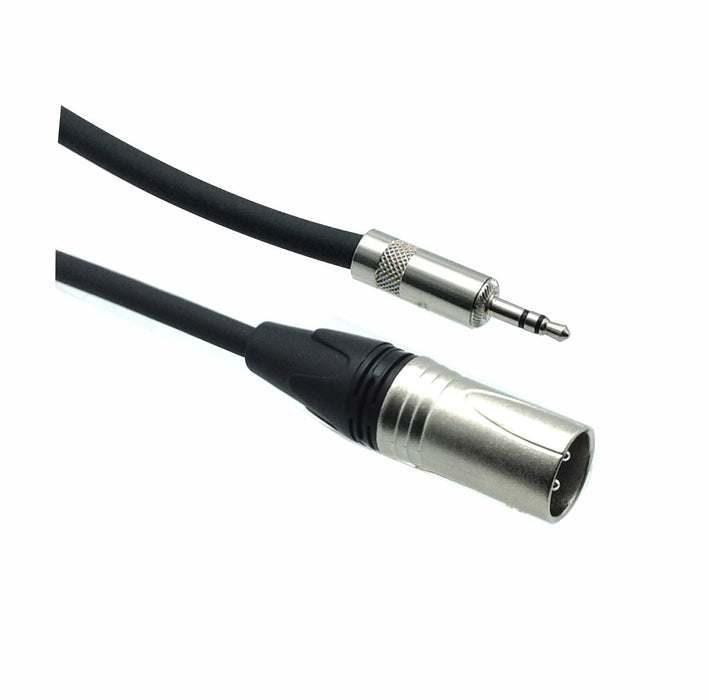 3.5mm Male to XLR Male QUAD Microphone Cable
ADVANCE QUAD DESIGN
This microphone cable employs an advanced quad geometry which delivers a clean, natural sound with excellent RF & EMI noise rejection, making this the ideal XLR microphone cable for both studio and live applications.  The four quad conductors consist of 30 strands of 0.08 OFC wire.
MAXIMUM FLEXIBILITY & RELIABILITY
The cables internal build features the four individual conductors combined with a cloth-cord fill, which is then surrounded by a 100% spiral shield and finally covered with a flexible outer PVC jacket (4.8mm diameter).   
Our cable is engineered to provide superior cable movement with maximum protection against wear and abrasion.  In addition, our high performance precision connectors are designed for exceptional signal transfer and year after year of dependable in the field use.
Each microphone cable is hand-built and terminated with lead free, high-content silver solder for maximum signal transmission, then put through a rigorous QC and testing process.  Our microphone cables include limited lifetime warranty.