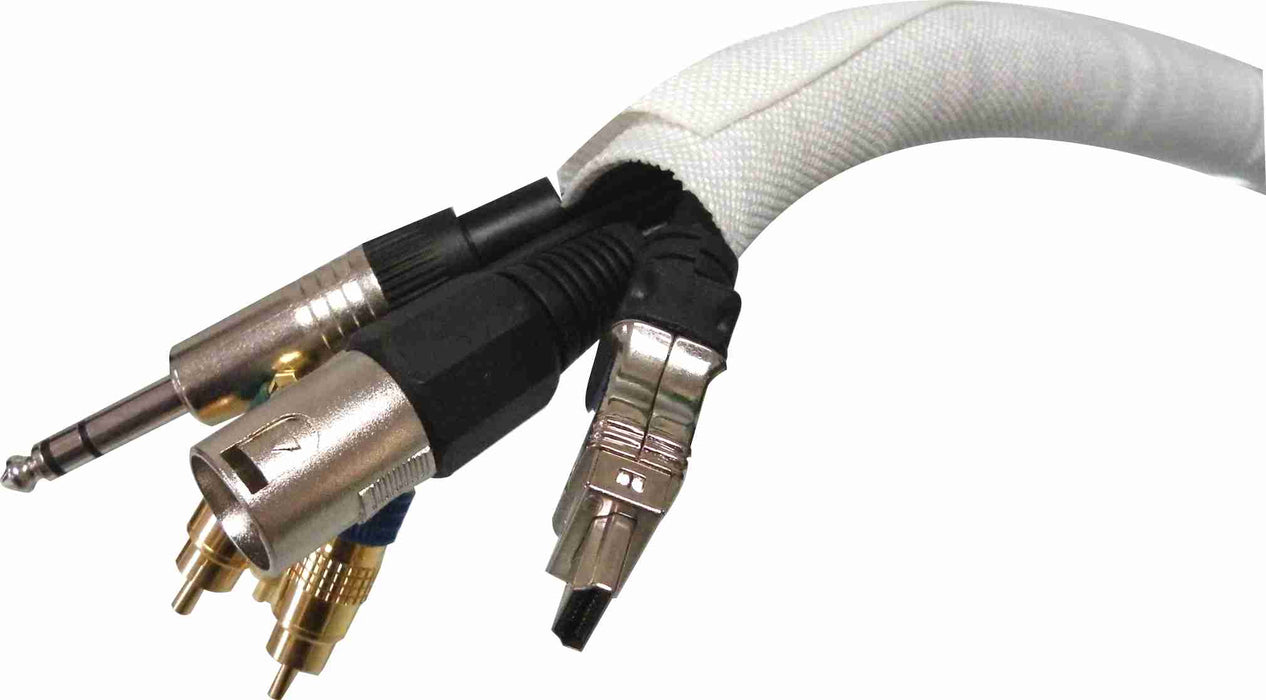 1 inch SNAKESKIN Cable Management Kit - White - 8 feet pack
SNAKESKIN is a state-of-the-art, easy-to-use wire bundling and protection cover.  Wires can be covered with or without ends attached. The wrap-around design provides 100% coverage that holds wires snugly in place in a single,  manageable wire loom.
The hybrid mono-filament/cloth weave construction will not retain moisture and protects wires and cables from abrasion and sharp edges. Convenient for rework and repair, SNAKESKIN can be easily removed and replaced. In addition, SNAKESKIN is expandable making the covering of additional wires "no hassle".
SNAKESKIN provides a sleek, clean look for maximum appeal and confidence. The job is not dressed properly until the SNAKESKIN is on! Best of all, SNAKESKIN will not "chew up" your fingers like standard plastic split loom.  
SNAKESKIN makes a great animal deterrent, preventing pets from playing with or chewing on wires and electrical cords, protecting both wires and pets from electrical shock.
Available in 3/8", 1/2", 1" & 1.5" diameter in single use and bulk packs for large installations and industrial applications.  Use all audio, video, recording, broadcast, film, IT, computer and automotive applications.  
This kit includes 8 feet of 1" SNAKESKIN Wire & Cable Cover in white, 2 REGRIP Reusable Cables Straps in white and 2 REGRIP Strap Mounts in white.
This kit has everything you need in one box, ideal for organizing and protecting wires and cables in audio racks/cabinets, TVs, Computers and IT.  Create an easy handle cable loom by wrapping wires in SNAKESKIN Cover.  Use the REGRIP Straps and Mounts to further secure the cable loom.  Mounts can be attached to the side of cabinet or under a desk either by the attached adhesive pad or screw.  Once mounted, slide strap through mount and fasten around cable loom. 
Don't worry if you need to add or replace a wire, SNAKESKIN Cover and REGRIP Straps are totally reusable making repairs and replacement fast and easy.
SNAKESKIN IS 10X FASTER THAN SPLIT LOOM OR SPIRAL WRAP!  WATCH OUR VIDEO TO SEE HOW EASY SNAKESKIN REALLY IS!